---
GridReady 2010-2013 Chevrolet Camaro Tail Light, Reflector and Side Marker Tint Kit

 
Beauty is in the details. Upgrade your taillights, sidemarkers and reflectors with our '10-'13 Chevrolet Camaro Tail Light & Side Marker Overlay Kit. Your ride deserves it!
At GridReady we are proud of our high quality product standards:
☞ We exclusively fabricate premium quality tint film made from the best cast vinyl and can be applied dry. (this is not the cheap, wet application film that most companies offer).
☞ Our taillight overlays are equipped with air release channels which make a crease and air bubble free end result easier.
☞ You can count on our special adhesive layer,  making repositioning during the install possible in case adjustment is needed.
☞ We have your back to avoid misplacement! That is why all of our vinyl covers are labeled with their exact position.
☞ We understand that practice makes perfect. That is why we include 5 extra overlays to guarantee you a great final result.
☞ This tail light / reflector tint set is designed specifically for the 2010, 2011, 2012 & 2013 Chevrolet Camaro and has a black smoke finish.
☞>Buying at GridReady means supporting USA companies, industries and jobs.
Here is what you'll get in every set:

2 Driver Tail Light Outside Overlays
1 Passenger Tail Light Outside Overlay
2 Driver Tail Light Inside Overlays
1 Passenger Tail Light Inside Overlay
2 Driver Reverse Light Overlays
1 Passenger Reverse Light Overlay
2 Driver Front Side Marker Overlays
1 Passenger Front Side Marker Overlay
2 Driver Rear Side Marker Overlays
1 Passenger Rear Side Marker Overlay
1 Squeegee
1 Microfiber Cloth
1 Installation Guide
Don't settle for less; get the best!
★Limited Stock★ - You will only find premium quality at this price on GridReady! Click ✔ADD TO CART✔ above now!
Customer Reviews
Too easy!
Really happy about this purchase and how easy these tail light tints were to install. PLEASE read instructions! I messed up but I was able to reuse film. I'm the type of person that thinks they know it all. You will need at least a Hair blow dryer to install these to perfection. Would recommend this product to anyone that wants a cleaner look on their 5th gen Camaro.
Look Amazing
These are excellent quality Vinyl overlays. I used Right-On Application spray to place and position and then hit it with a little heat from a heat gun to work it into the shape of the tail light using a small plastic decal squeegee. The finished product came out amazing. The key was not too much heat, and a lot of patience.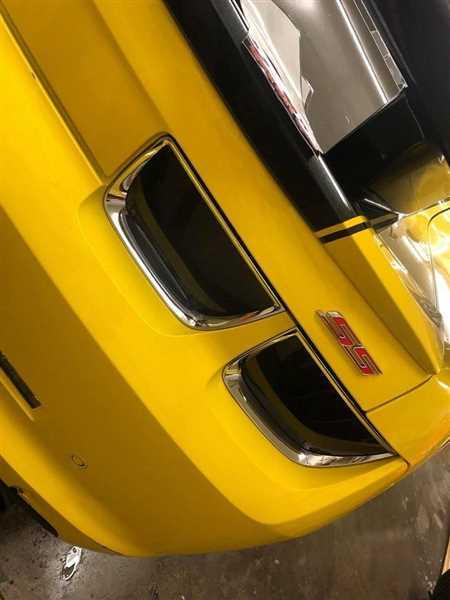 Was a little hard to apply but figured it out eventually. Take your time
Great
It's worth it
The kit came quick and was packaged nicely they look amazing on my camaro great company and great product